Hey, look! GLAD gave me an award!
I was humbled and honored to receive an award this year from Gay & Lesbian Advocates & Defenders, New England's LGBT/AIDS legal advocacy organization. The award was in recognition of the work that I did on the transgender civil rights bill which became law in Rhode Island this year.
Here's a picture of the beautiful plaque:
---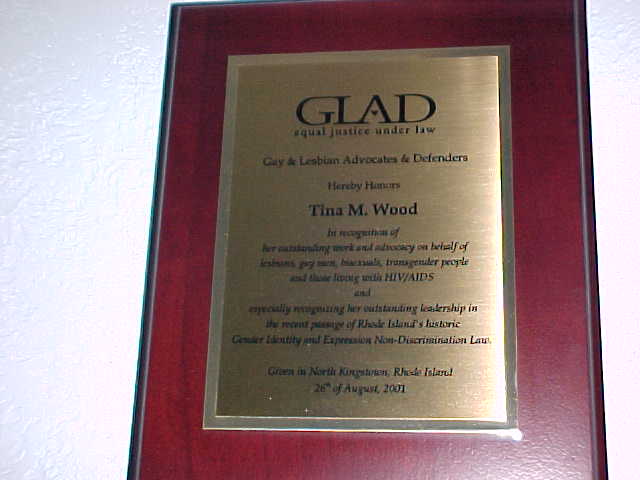 ---

In case you can't read it on the photo, the text is:

Gay & Lesbian Advocates & Defenders
Hereby Honors
Tina M. Wood
In recognition of
her outstanding work and advocacy on behalf of
lesbians, gay men, bisexuals, transgender people
and those living with HIV/AIDS
and
especially recognizing her outstanding leadership in
the recent passage of Rhode Island's historic
Gender Identity and Expression Non-Discrimination Law.

Given in North Kingstown, Rhode Island
26th of August, 2001


---
For more information:
GLAD: They do wonderful work which affects the lives of LGBT people everywhere. Please support them!

---
---